Scholarships
PTA 2023 SCHOLARSHIP
Applications are available in the HS office. Due Date 4/20/2023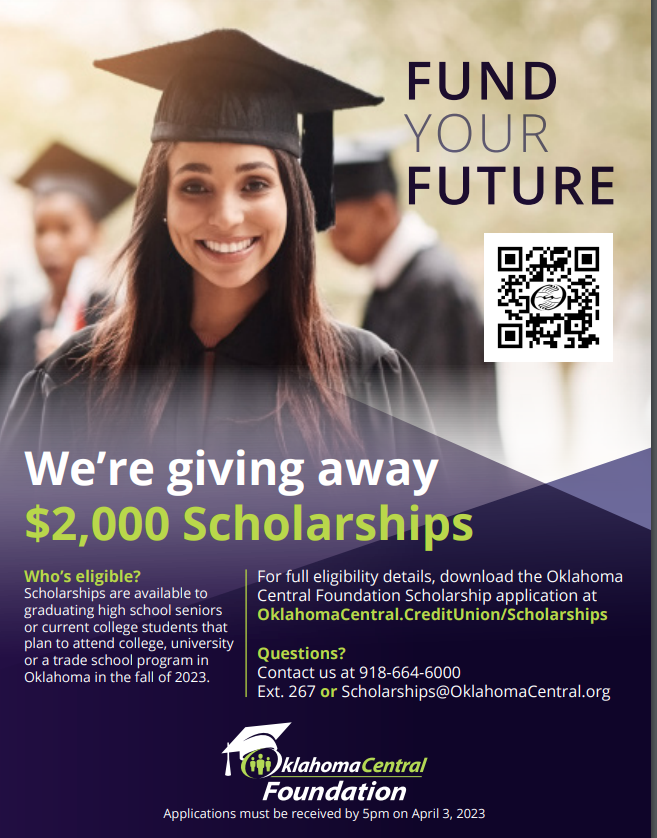 The Oklahoma Central Foundation is proud to announce that applications are now being accepted for our 2023 Scholarship Program. We are offering $2,000 scholarships to students that are high school seniors or current college students that plan to attend college, university, or a trade school program in Oklahoma in the fall of 2023.
Information and the application for scholarships can be found at Scholarships - Oklahoma Central Credit Union. I have also attached a promotional flyer and ask that you help us promote our scholarship to your students. DEADLINE IS APRIL 3, 2023.
Requirements for applying for the Scholarship are:
Applicants must be a current high school senior or current college/university student
Applicants must be at least 16 years old
Applicants must have a minimum of 2.0 GPA on a 4.0 scale
Applicants must be accepted as a full-time student at a college, university, or trade school program in Oklahoma for the upcoming 2023-2024 academic semester. If scholarship money is awarded, this is the only program that will receive the funds on behalf of the applicant.
Applicants must submit a completed scholarship application with accompanying materials by the designated deadline
Applicants must be a citizen or legal permanent resident of the United States, and a legal resident of the State of Oklahoma, or a member of Oklahoma Central Credit Union
If you have any questions or would like me to mail you posters for your school, please don't hesitate to contact me.
Thank you,
Leah Bowles | Director of Community Engagement
918.664.6000 x224 | lbowles@occu.org
The Oklahoma State Regents for Higher Education assists in the administration of the Frances Koop Parsons/AT&T Pioneers Memorial Scholarship. This scholarship program was established through the AT&T Pioneers to assist Oklahoma students in obtaining their educational goals. The recipients of this scholarship will receive a $1,000 cash award to be used at an eligible Oklahoma career technology center, two-year college, or four-year university. This scholarship is open to first-time freshmen with at least a 3.0 high school GPA and whose family income does not exceed $75,000. The 2023-24 application is attached and must be postmarked on or before March 24, 2023. Applications without high school transcripts or income documentation will not be considered. Please contact Linette McMurtrey, Scholarship Programs Coordinator, at lmcmurtrey@osrhe.edu if you have any questions.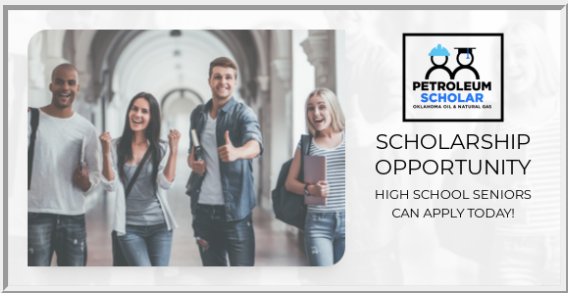 HELP US FIND THE NEXT GENERATION OF ENERGY LEADERS!

Each year, the OERB awards up to $500,000 to students majoring in petroleum-related fields at the University of Oklahoma (OU), the University of Tulsa (TU), Oklahoma State University (OSU) and Oklahoma City University (OCU). This includes incoming freshmen. Petroleum-related majors include: Petroleum Engineering, Geosciences, and Energy Management. 

Each OERB Petroleum Scholar has the opportunity to be awarded up to $17,500 in scholarships throughout their college career.
Freshman- $2,000
Sophomore- $3,000
Junior- $5,000
Senior- $7,500
Please join me in helping your high school seniors get the money they need to JUMP-START THEIR FUTURE by encouraging them to apply today at OERB.com/scholarships!

The 2023-2024 application is open until March 1st, 2023 and takes less than 30 minutes to complete. Last year nearly 50% of students that applied were awarded scholarships!

OERB's scholarships are sponsored by the 2,500+ producers and thousands of royalty owners in Oklahoma. The industry directly employs 140,000 Oklahomans and has an average salary of $104,000. The next generation of oil and natural gas professionals will continue to help produce the resources that fuel our modern world while finding new ways to reduce the environmental footprint.
Did you know?   Once you set up your account in virtualjobshadow.com  you can go to Colleges- Scholarships.

The Gifted Oklahomans (GO) Foundation Teacher Scholarship
What is better than going to fast paced conferences that give you tons of resources, but over a short amount of time?  Taking classes in gifted and talented education.  These classes are paced, so the learning will stick with you. New concepts can be applied in your teaching as you learn, and there is a support system for other students as well as the instructor. The challenges of a university class will activate your own intellect and will keep you sharp and engaged. You will find a community of other GT teachers to share ideas, swap lesson plans, and keep each other on the cutting edge.
The Gifted Oklahomans (GO) Foundation and Oklahoma Association of the Gifted, Creative & Talented (OAGCT ) application is a scholarship for teachers of gifted students to pursue college course work or a master's or doctorate degree in the field of gifted education. The scholarship is awarded with several provisions. Teachers must complete the course work with a B or above. Additionally, the recipient is willing to submit a syllabus and transcript and turn in a copy of the grade or a letter from the professor with a grade. Finally, to be awarded a scholarship, the applicant must be working or planning to work in an Oklahoma school in gifted education and is willing to present at the OAGCT spring state convention with other scholarship recipients.                                           
Applications are accepted through the second week of the semester for which you are applying for a scholarship. Email completed applications (linked here) to vanemli@tulsaschools.org.
The Beverly Riggs Summer Camp Scholarship was created in honor of Beverly Riggs, a longtime GT teacher in Tulsa and Stillwater.  It reimburses up to $500 toward summer camp attendance for Oklahoma students who are identified as gifted. The camp must be in the gifted areas of academic, artistic enrichment, leadership, and/or acceleration.
The Advocacy Award is presented in recognition of public support for Oklahoma's gifted and talented students to the Legislature, colleges, universities, local school districts, or the Oklahoma State Board of Regents. Anyone who is actively involved in a personal effort to improve gifted and talented education is eligible to receive this award. Anyone may submit a nomination for this award.
The Oklahoma Association for the Gifted, Creative and Talented  Cheryl Kennedy Award is a $500 grant awarded to educators for financing a research project or training in gifted and talented education, such as Confratute or National Association of Gifted Children. 
The Nicholas Green Distinguished Student Award, a $500 award, is designed to recognize excellence in young children and is awarded to one student in each state who is in grades 3, 4, 5, and 6 and has distinguished themselves in academics, leadership, or the arts. Originally the award program was established through funds provided by Maggie and Reg Green in honor of their seven-year-old son Nicholas. The Greens feel it is important to recognize gifts and talents in children who are now at Nicholas's age when he died.
Oklahoma Edge 
OKedge.com offers Financial Aid & Scholarships resources to help connect students to financial aid and scholarship opportunities.
Oklahoma CareerTech
Students may apply for several types of aid including scholarships, grants, long-term loans, and work-study assistance. For more information, visit: Scholarship Collection.
OKcollegestart.org
OKcollegestart.org offers a Find Scholarships database and Scholarship Corner for students to find financial aid and monthly scholarship opportunities.
Scholarships.com
Scholarships.com offers over 3.7 million college scholarships and grants. You can even search for scholarships by month. To search scholarships by deadlines, click here.
Indian Education Grant/Scholarship Resources
YEAR AROUND SCHOLARSHIPS
American Indian College Fund
Deadline: Various
The American Indian College Fund was established in 1989 to provide scholarships to American Indian/Alaska Native students attending tribal colleges, and to fund and create awareness about the community-based accredited tribal colleges and universities that offer students access to knowledge and skills alongside Native culture, language, and values. The American Indian College Fund also provides scholarships to undergraduate and graduate students attending any other accredited public and non-profit private college all across the United States.
Website: http://collegefund.org/student-resources/scholarships/
American Indian Science And Engineering Society
Deadline: Various
The American Indian Science and Engineering Society (AISES) helps students move forward in their educational journeys by providing a wide range of programs and scholarship opportunities.  AISES scholarships help students acquire skills and training that will help them meet the unique STEM needs of our communities.  We highly encourage you to apply for all the scholarships you are eligible for!
Website: http://www.aises.org/scholarships
Common Knowledge Scholarship Foundation
Deadline: Various
CKSF offers a wide variety of scholarship quizzes throughout the year for U.S. high school, college, and graduate students. We even have some scholarships that parents can win for their children. Award amounts range from $250 to $2,500.
Website: http://www.cksf.org/index.cfm?Page=Scholarships
Eskridge Auto Free Ride College Scholarship
Deadline: Year Round
Eskridge Auto Group and Prosperity Bank (together, "Program Sponsors") are awarding a "Free Ride" college scholarship worth up to $25,000 and a new 2016 Chevrolet Sonic LTZ to one graduating senior at a central Oklahoma Area High School! The Program Sponsors together with KOCO 5 are also teaming up to award scholarships worth up to $5,000 to four graduating seniors. The terms and conditions of participation in this program (the "Program") are explained on the website.
Website: http://www.koco.com/freeride
Folds of Honor Foundation
Deadline: Year Round
Provides post-secondary educational scholarships for children and spouses of military service men and women killed or disabled while serving our great nation.
Website: www.foldsofhonor.org/scholarships
Geneseo Migrant Center Scholarships for Migrant Students
Deadline: Various
The Geneseo Migrant Center administers a variety of scholarships, linked below, to offer financial assistance to migrant students who want to further their education.
Website: http://migrant.net/migrant/scholarships/index.htm
McNair Scholars Program
Deadline: Year Round
Scholarship program is designed to prepare students for careers as graduate students, professors or professional researchers. Must be full time student, with 42 hours or more completed, 3.0 GPA & first generation college student or student from an underrepresented ethnic group.
Website: http://mcnairscholars.com/resources/
Oklahoma City Community Foundation
Deadline: Various
If you're looking for scholarships, don't forget to visit OCCF.org. There you'll find an abundance of scholarship opportunities for students right here in Oklahoma. The Oklahoma City Community Foundation is home to more than 120 scholarship funds established by individuals, organizations and companies. These funds share the common goal of helping to make a difference in the lives of others. The foundation is now able to receive your transcripts electronically if your high school participates in this free service. Please see website for details on the list of scholarships.
Website: www.occf.org/
SMART
Deadline: Various
Part of the National Defense Education Program, science, math, and research for transformation. Open to undergraduate, graduate, and doctoral students pursuing degrees in science, technology, engineering and mathematics.
Website: http://smart.asee.org/
Tuck Sleep Scholarships
Deadline: Various
Many scholarships today are geared toward specific candidates, including those who struggle with sleep-related issues. Tuck.com provides you with more than $500,000 in scholarship funding for undergraduate and graduate students. Some of these awards target sleep-deprived individuals, while others are available to students pursuing degrees in sleep science and other areas of psychology and mental health.
Website: https://www.tuck.com/sleep-scholarships/
UCanGo2.org
Deadline: Various
Check out UCanGo2.org for numerous scholarship opportunities for middle school, high school, college and adult students. We provide you with links to scholarships by deadline and by category, as well as a new scholarship of the week each Monday. UCanGo2 also offers free information on college planning and financial aid. Visit our website to find these helpful tools!
Website: http://ucango2.org/Scholarships.html
Varsity Tutors Scholarship
Deadline: Monthly
Varsity Tutors holds a monthly $1,000 college scholarship contest where students must write an essay in response to a monthly prompt. Visitors to the Varsity Tutors scholarship webpage are able to vote via social media for submitted entries. The top five entries with the most votes are reviewed by Varsity Tutors at the end of the month and one winner is subsequently chosen to receive the $1,000 college scholarship.
Website: www.varsitytutors.com/college-scholarship
Raise Me Scholarship
Deadline: Year-round
Any students, 9th grade and up, who qualify for free and reduce lunch, and are interested in attending OU, apply for OU's "raise me" scholarship, in which you can earn up to $6,000 during high school to put towards your tution!     
Register here: http://www.raise.me
Other Helpful websites: