District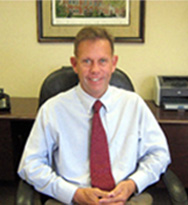 In the summer of 2004, the Berryhill Board of Education selected Mike Campbell as the 8th superintendent in the history of Berryhill Public Schools.
Campbell begin his career as a teacher and baseball/football coach for Owasso Public Schools, before accepting a principal position with Owasso Schools in 1994. In 1999, he accepted the assistant superintendent position with Oologah-Talala Public Schools. While serving at the district level for Oologah-Talala, he served as the district's curriculum director, special education director, federal program director, supervised all custodial, maintenance, transportation and child nutrition departments.
Berryhill Public Schools has been able to accomplish many great things that will benefit students for years to come. And together we look forward to helping our students prepare for even greater achievements in the future.

Superintendent, Mr. Mike Campbell
From 2000 - 2004, he served as the superintendent of schools for Oologah-Talala. His responsibilities included general school administration, instructional programs and services, personnel leadership and supervision, business and fiscal operations, school facilities management, pupil transportation, record keeping and reporting and community relations.
Campbell has been successful in getting four bond issues passed in the districts he has served. The most recent bond issue was an $8.3 million dollar issue at Berryhill Public Schools.
Campbell earned his Bachelor degree from Phillips University in 1979, Master in Administration degree from Northeastern State University in 1994 and Specialist in Education degree from Oklahoma State University in 2002.